Damask Woven Labels
If you're looking for a label that is as soft as satin but with more durability and customization, Damask is the perfect choice for your clothing line. Made by weaving polyester yarns that are available in hundreds of colors Damask labels can come in a multitude of shapes and sizes. Even better, thanks to its supple feel it can be used inside or outside of any garment. It's versatility, combined with its affordable pricing makes it a smart choice for designers.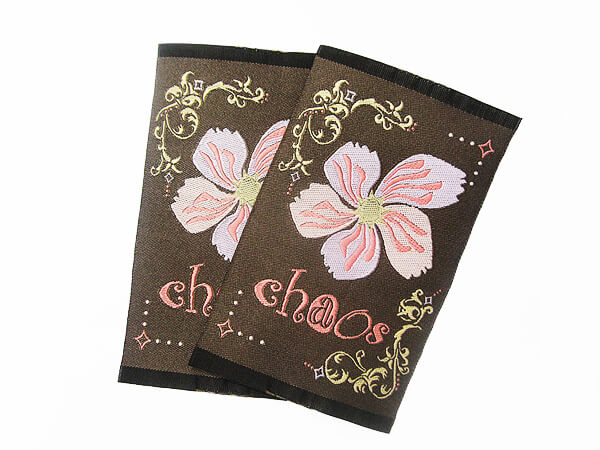 Damask Basics
Damask comes in 2 varieties, 100 denier and 50 denier damask (sometimes referred to as high-density woven).
Denier is a reference to the thread size, with the 50 denier being roughly half as big as the 100. This is why 50 denier is commonly used for luxury brands, fine detailing and lettering, whereas the 100 denier damask is used for less complicated or larger designs.
100 denier damask has remarkable strength yet feels just as luxurious as silk and satin. It is great for tees, linnes, the inside of jeans and more because they can withstand repeated washings and won't break down.
50 denier is ideal for high-end brands, interior kid's clothing or for product information on 100 denier labels. The good thing about 50 denier is that for a relatively small price you can create a bright, sophisticated label that shows off every detail of your brand.
Ordering
When ordering, we can produce samples for standard colors in 5-7 days and produce orders in 8-10 days.
For DTM yarn (dye to match, woven label), or DTM tape/material (printed label) longer production times maty be needed, with an estimated 15-18 days.
Damask Vs Satin
Many designers are unsure of whether to use Damask or silk and while both are excellent choices, there are instances when Damask is the better option. To start, Damask costs a bit less than silk, yet looks just as polished, so unless you are doing a couture line or baby clothing, it makes sense to use it.
In addition, you get more color choices, which means you can put anything you want on it, from a logo to how it's made, using any color combination you want. This lends you the opportunity to really use your label and make it, and your clothing, stand out. Finally, and most importantly, it looks and feels just as good as silk but has much more durability.
Colors, Size, and Cutting
With Damask, the sky is the limit in terms of colors for the background and lettering of your products. This means you can play around and do things like use our company colors to catch the wearer's eye. And with Damask colors stay vibrant and bright, so they are easy to see and information is easy to read.
Here at SunTat the background color is included when placing an order, as the threads used to create them are woven using a loom; as a result, black and white are considered a color when ordering. Overall, we have a large variety of colors to pick from, so you can rest easy knowing your label will match your vision. There is a maximum of 8 colors for our woven labels and the number of colors in your label affects pricing, which our sales team will be more than happy to help you with. They will sit with you and help you choose the right combinations to ensure every detail is taken care of.
You can do any size label you want, but pricing may be affected by certain sizing, all of which we will help you figure out. As far as cuts, here at SunTat Satin labels are cut using either a sonic laser or heat knife so the threads fuse together and don't fray no matter how often they are worn or washed, which
In addition, we also offer the option of having your labels adhere using adhesive instead of sewing them on. You can choose either heat (iron-on) adhesive or stick adhesive. The heat adhesive style is permanent and as strong as the sewn style while the stick adhesive is strong, but will eventually come off. What you choose depends on you.
Ordering
Here at Sun Tat our goal is to ensure you get the label you want. Our experts will walk you through the process and ensure the label is created exactly to your specifications. Contact us today for more information: